OK, what is up with America? Why do you underpay your waiters and then expect the customer to pick up the slack? Since when did 20% tipping become the norm, with anything under 15% being considered bad service?! Yeah,
fairtip.org
, I'm looking at you.
You know when you're a kid and you're told you have to do something that you don't want to do, like eat vegetables or turn off the lights. So you avoid it - you dislike like, nay, you hate it. It's not until your parents stop insisting you do it that you realize it's not so bad, and that once in a while, you actually crave a piece of broccoli or an energy-efficient light bulb.
That's how I feel about mandatory tipping. The more you tell me I have to do it, the less I want to. In most other places in the world, a tip is exactly that - a tip - a reward for good service. You actually
want
to recognize your sweet waiter for being able to take all 4 orders without taking notes, not mess anything up, constantly refill your drink and bring you things in a timely manner. You know, what a good waiter is supposed to do.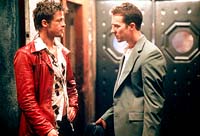 The catch-22 is that waiters aren't paid enough to allow for average tips below 15%, so people are forced to dole out the cash even to just plain old couldn't-care-less-but-didn't-pee-in-your-food service, while employers see no need to pay waiters more than the going rate because they expect America to tip enough to cover their wage costs.
I call shenanigans. Employers - yeah you, the one who's paying your waiters something in the range of $2-$3 an hour! Get a grip - learn how to run a business or go back to watching QVC. Other countries can figure it out - pay waiters normal wages and then have a 10% tip be a sign of good service. It's not that hard. Then again, other countries figured out the metric system too...
Ugh.
Oh, and as an addendum, this includes more than just waitstaff. Cab drivers, maids at hotels, bellhops, delivery men... aren't they getting paid to drive me to my destination, clean my room, carry my bag and deliver my furniture? If they do something extra special, then by all means, but I always get this awkward "Home Alone" feeling like when Macaulay Culkin gives the bellhop some ABC gum while he stands there waiting for a tip. Why don't other people get tips as well? I'm thinking salespeople, accountants, garbage men, professional athletes, ushers, shoot, even consultants... rant rant rant! I am so angry!